As we head into the last week of the year (and my last post of the year), I leave you with this message.
RSS Readers click here to see the video message.
May 2010 bring you the growth and success you wish and deserve.
I'm the guest blogger today on  Find Your Nerve, a blog created by Steve McKee.
Steve runs an ad agency in Albuquerque, McKee Wallwork Cleveland, and is the author of "When Growth Stalls."  Steve started this blog because he wanted entrepreneurs to share their stories with other entrepreneurs and to remind people that it is in difficult times where true success is forged.  The result is an inspirational – and highly informational – source of stories that remind us all of what is important.
Today, my story is about how I first found the nerve to leave my practice at Merrill Lynch to start Imagine and further, how I responded to a crisis that could have killed our growth, but instead catapulted us.
Read more here and check out the other guest bloggers, as well!
At this time of year, while we are all in the midst of the season's greetings ritual, it is worth stopping for a moment to remind everyone that empty ritual is meaningless.  The last thing I want to be perceived as is "Grinch-like," but I can't help but notice all of the inane, silly, and meaningless cards and holiday emails I'm getting.
It reminds me of a lesson my mom taught me.  As I child, I was known to be slightly impulsive.  My "act first, think second" habit caused more than a few things to break.  I learned (quickly) that if I apologized quickly the punishment would be far less than it would have been otherwise.  I became really good at saying "I'm sorry."  Eventually my mom taught me that merely saying I'm sorry didn't mean anything if I didn't act sorry.  At that point, saying I'm sorry no longer had a positive effect. I learned that empty words were worthless.
Today I got  the following email message:
What's wrong with this you ask?  I've never done anything with them, I don't think about them, and I have no loyalty to them.  All this message did was highlight how little they actually care about their customers.
Now, if this were happening just during holiday season, I wouldn't comment on it.  However, these empty acts happen all the time, and in today's attention-deficit world, businesses can't afford empty communication.
They happen when you send out a newsletter that your readers don't find relevant.
They happen when your salespeople call on your customers and your customer gets no value from the call.
They happen when emails go out with all data and no context.
Buyers are constantly making decisions about how relevant you are.  Your challenge is that 99% of that decision is made subconsciously.  As people have less time and less capacity to deal with information, your #1 communication job is to ensure that you make the cut.  Resolve to make every communication meaningful, relevant, and valuable.
We all want to be Babe Ruth (at least a little), who despite no longer holding the home run record, is still thought of as The Home Run King. Babe hit 714 home runs and struck out 1,330 times.  Babe did the least productive thing possible in baseball (striking out) almost two times more than he did the most productive thing (hitting a home run).  Babe is the basis for the life lesson that it's okay to strike out, because if you risk striking out, you can hit home runs and people will only remember you for the home run.
While this is a lesson that I teach my son – it's not only okay to risk failure, it's absolutely necessary – it's one that is causing businesses today a tremendous amount of harm.  Here's the thing people tend not to talk about Babe.  His career batting average was .342.  Only 9 people have a better career batting average than Babe, and his on-base average (the percentage of time a player gets a hit, a walk or gets hit by a pitch) is the 2nd best all-time.  While Babe was a prolific home run hitter – he was, simply, a great hitter.
To continue my baseball metaphor, business success is not about hitting home runs – its about getting on base consistently.  If you learn to hit well, and get on base, you'll win baseball games. Win enough games and you'll win championships – and championships are what people really remember.
This pursuit of The Home Run manifests businesses in a variety of ways:
If we could just hire a marketing executive who can come in a create a "home run" campaign.
We just need to get that sales superstar who can "knock it out of the park."
We just need to land that big "home run" account.
We just need to design that new "home run" product.
What they all have in common is that disproportionate resources, and lots of disruption, are allocated to low probability events (Babe, one of the best, hit a home run less 7% of the time).  Because so much was invested, businesses are forced to stick with their approach, even when they begin to know that's it's not working. When it doesn't work, they literally have to start over.  The Home Run strategy makes for a great press release, but unfortunately, it rarely leads long-term business success.
So, if you want to pursue The Home Run, go right ahead.  I'll take the walks, the single and the doubles – my home runs will come in time.  And I'll have championships pennants in the form of delighted, loyal clients, and sustainable profits to show for it.
As I was watching football this weekend, I saw an ad for Direct TV's LeaguePass package.  In it, Ray Allen, of the Boston Celtics, says "to succeed in this league, you have to know your opponents better than they know themselves."  This is virtually an identical statement to the first rule of what I call The Five Unbreakable Rules for Creating Demand.
After the similarity hit me, I realized its implication.  How many people play basketball?  Millions.  How many actually make real money playing basketball?  Less than 1%.  The same is true of virtually every sport.  The great ones make a lot of money, the average ones don't.
For the last 20 years, this did not apply to business.  Sure, the great businesses have always made exponentially more money than the good ones, but the truth is that, then, good was good enough.  You could make a good living (great by most standards), you could build reasonable equity value and you could grow – without the sacrifice of being great.  Today, that is no longer true.  Today, the drought makes business tough – almost impossible – for those unwilling to make the sacrifice to be great.
So my question to you – are you ready to play in the major leagues?  Great, what are you going to do?
Today marks the end of what has been called the worst corporate acquisition of all-time – AOL's acquisition of Time Warner, as AOL gets listed on the NYSE.  While AOL works to redefine itself and its underlying value proposition, it's worth taking a moment to review some important lessons that AOL/Time Warner taught us.
Profits, and by extension stock valuations, are an end – not the means.  When the focus becomes "profit" rather than on value creation, the strategy is doomed to failure.  The AOL/Time Warner merger was hailed under the banner "synergy," but when pressed to answer the question "what would be different & better for the consumer" there was no answer.
Mergers rarely work.  The opportunity costs related to lost focus are most often far, far greater than any perceived gain.
When I was a new advisor at Merrill Lynch, cold calling my way to appointments and overcoming objections to get those appointments, my Managing Director gave me some great advice.  He said, "Doug, if they tell you they don't have any money – believe them."  I've taken that lesson and created a new one, "If you can't figure out how they are making money – they're probably not." The merger has been called the worst purchase ever.  The reality is that this is not true.  Remember, AOL bought Time Warner.  For AOL, it was a great purchase.  They took an inflated asset (their stock) and bought real revenue.  Had AOL not had Time Warner, they would probably not be in business today.  Steve Case didn't make a mistake buying Time Warner, Gerald Levin made a big mistake selling to AOL.  Why did he sell (and the board and stockholders agree)?  Because he was envious of AOL's "profits."  Had he focused on his core business, rather than chasing the "greener grass," Time Warner would be in far better shape, and its stockholders would be much more wealthy.
Which brings us to our fourth (and probably most important) lesson.  Don't confuse brains with a bull market.  I caution CEOs in every speech I make – just because the fish are jumping in your boat doesn't mean your an expert angler.  AOL's success had far more to do with the market, the environment and the timing than it did with any business strategy.  Just today, I was asked about all the apparent exceptions to The Five Unbreakable Rules for Creating Demand.  I responded that while there are certainly exceptions, and that more businesses than I can count have done the wrong things, and still succeeded. But note that if the success isn't replicable, there is no lesson worth learning.  AOL's problem was that what they did to be "successful," simply wasn't replicable.  Had they kept that clear, they may have altered their business model and could have found themselves in a much healthier place today.
What lessons can you apply to your business?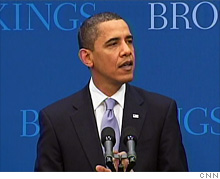 In this blog, I work hard to stay away from politics, or anything that can be perceived to be political, but I'm going to risk deviating slightly.  Below is my open letter to President Barack Obama and anyone else in government.  This letter expresses my opinions about accelerating growth (and therefore hiring) in small and mid-sized businesses.  It is not meant to be a Republican or Democrat opinion – instead it is meant to be a Fast Growth Opinion:
Dear President Obama:
I read a summary of your speech today about creating jobs. While I admit I haven't seen any details, I'm concerned about the approach you are taking and would like to encourage a different one.
If you want to increase jobs and utilize small and mid-sized enterprises (SMEs) as the means for that goal, it's not a particularly difficult or complex thing to do.  The more complicated you make it – the less likely it is that it will work.
Here are three keys to stimulating job growth through SMEs:
We need capital.  At the risk of offending many, I don't think a reduction in the capital gains tax is going to do anything to stimulate hiring, nor will a tax credit for hiring (though that will have more impact).  A hiatus from payroll taxes is not the difference between hiring someone or not (and the failure to make such a contribution just puts the entire system even further at risk).  Hiring people is risky and the cost impact of hiring is far greater than just the salary being paid. The only way an SME can hire people that stick is to grow revenues.  What companies need is growth capital.  Take the money that you'll save from cutting "small business taxes" and create funds that provide capital to SMEs that show viable plans for growth – of revenue and staff.
Target investments that will grow employment.  Your announcement earlier this year that the government would increase its funding for SBA was nice, but did little to improve the hiring picture.  The problem with most traditional bank lending is that it is all based upon collateral.  While this type of support is great if you want to buy a building or other capital expenditures, it does not directly connect to hiring. I'm not against supporting this need, I just don't want you to confuse it with job stimulus.  This is also the problem with cutting taxes alone.  Frankly (and I'm being honest here), a business owner is more likely to pocket the tax savings than they are to spend/invest such a cut in their business to increase hiring.In uncertain economic times, the most logical thing for a business owner to do, actually, is to pocket the savings.  With increased market risk, business owners are prudent to retain whatever sources of cash they have.  They're also encouraged to take funding to buy other companies – which further reduce jobs.  So, if you want to impact jobs make sure the funding you create actually impacts them – directly.

Change the accounting rules to accurately report the value of tomorrow's growth businesses.  America is becoming an intellectual property (IP) economy.  All types of IP are driving America's growth businesses.  Everything from the design of Apples next notebook computer, to the methodology my accounting firm uses to advice its clients, to the communities and "tribes" companies are creating and leading.  However, there is nowhere to list such IP as an asset or to capitalize the expenses.  These assets are actually the most valuable assets a business can have; yet they show up nowhere on formal financial statements. The crazy thing is that as IP drives SMEs, it becomes even more important for these same SMEs to employ people to help spread the word and manage the process.  It is here, more than any other area, that traditional funding mechanisms let us down.  Lending money to a company that is buying a building to support a declining business appears to make more sense than providing capital to a company that is leading a movement to create new ways to solve old problems – even though it's the new approach that offers the best opportunity for jobs today and growth tomorrow.This does not mean that you should blindly throw money at any company that claims to have a new idea or a new way.  The problem is that there is no mechanism that allows those companies that are

really

doing it to gain the funding necessary to support those efforts.  Updating accounting rules to properly value IP is critical to supporting tomorrow success stories.
If you made it easier for growing SMEs to access growth capital at reasonable costs, without the risk of losing one's home, SMEs would be lining up to hire people.  Now, certainly some of these efforts would fail, but most would not.  Next, you'd materially increase employment (thus increasing the tax base with which to pay for such measures), and the cost of the failures would certainly be lower than what you are currently outlining.
While there is much detail that needs to be worked out in these three ideas, I think you'll find that, as approaches, they'll support the creation of far more job and far more growth than the traditional methods you are currently pursuing will.
Thank you,
Doug Davidoff
So, what do you think?  Do these ideas make sense?  Do you have better ones?  Let me know in the comments section.
Last week, I was working with a brand new client on sales strategy.  They had an opportunity to pursue a significant opportunity and were being asked to price their services.  They asked me how to handle it.
The problem was that there was nothing clear whatsoever about what was expected or what issues needed to be addressed.  The prospect, "wanted to get a feel for what to expect."  While I certainly understand that, there was probably  no dumber question to ask than, "what's the price?"
While my client agreed with my observation, we both understood that in today's world, procurement exerts an awful lot of control and even when their requests don't make sense, if you don't play by their game, there isn't much you can do.  You can't, after all, tell procurement that they are being dumb.
Flying to Winnipeg this morning for a series of speeches, I had the rare chance to read an actual newspaper and look at the comics.  In it was a Dilbert cartoon that tells the story.
Now you're armed.  The next time a buyer asks you for a price prematurely send them this cartoon, with a recommendations that they first diagnose their situation to apply the appropriate action.
Verizon Wireless and AT&T are in an ad war right now.  First, Verizon came out with their "There's a map for that" ad promoting their cell coverage while insulting AT&T's.  Then AT&T sued Verizon and lost.  After that, AT&T fought back by hiring actor Luke Wilson to sling mud about Verizon's network – and back and forth they go.
At the end of all this, the net result will be that both AT&T and Verizon will have spent hundreds of millions of dollars and the negatives towards each company will be heightened, causing consumers to like each company less.  My bet is little to no market share will actually shift as a result of this.
The easy reaction to this is to sigh and mutter, "What a waste!"  While this would certainly be a very reasonable response, there is an instructive lesson and huge warning sign for growth oriented companies.
When companies fail to consistently create value – and by extension create demand, competitive pressures become increasingly intense.  The challenge that both AT&T and Verizon Wireless have is that neither of them does anything particularly special.  While Apple, Google, Palm and other handset makers continue to innovate and search for new ways to delight customers, AT&T and Verizon Wireless are left fighting over who's 3G network is better.  I wrote about this six years ago:  "We are better" value propositions don't work.
The Warning Sign
This entire ad war reminds me of political campaign and negative campaigning.  When you play the competitive game I call Demand Fulfillment, you are increasingly vulnerable to competitive attacks and mudslinging.  The solutions focus of demand fulfillment makes compelling differentiation virtually impossible.  Features and benefits become commodities.  Developing new applications become increasingly expensive and risky.  Because margins are tight, companies desperately search for quick hit tactics that can "have an impact."
What's the quickest, easiest tactic? Insult the competition. Sure, we all know that we're not supposed to say bad things about the competition (that's what I was taught in sales training), but politicians proved years ago that scaring buyers voters about their opponent had far more immediate impact than building themselves up.  Of course, if the company being insulted is vulnerable to competition, they must fight back, and before you know it millions (or for small businesses – thousands) of dollars are wasted on inane messages, rather than on developing deeper understanding and connections with core customers.
The Lesson
Companies that create demand are increasingly immune from competitive pressures. Their maniacal focus on their customers – and solving their customers problems – give them a competitive-free like status.  So long as they continue to build deeper relationships with their customers and desired markets, attacks from competitors have no impact.
The lesson for every company, even especially those companies in difficult markets, is to stop playing the traditional game.  If you do, the AT&T – Verizon Wireless war is your future.
Start creating demand.  Determine the results your customers want, help them understand the problems they don't understand that are preventing them from getting those results, and sell a new solution.  Don't tell me people won't pay more or do different things in this market, because I know that will.  It's your choice!
So, what are you going to do differently to create demand?
When I speak with CEOs across the country, I'm always amazed by how much attention is paid to differentiation.  I can't really blame CEOs for this.  For years, marketing consultants and authors have been shoving the concept of differentiation down their throats with claims like "Differentiate or Die!"
The problem with the focus on differentiation is that it is an end – not a means.  Unfortunately, that hasn't stopped branding firms and marketing agencies from packaging the ends and selling it as a means to justify fees.  As such, the whole concept has become fraught with complexity – and angst.
Differentiation is actually quite simple.  It's the answer to a very simple question – "Are you different?"
If the answer is 'yes', then act that way.  If you are different and act different, you shouldn't have to spend much time or effort differentiating.  Think about it, when you go to The Four Seasons, do you need them to tell you they are different from other hotels?  When you got your iPhone, did Apple need to convince you it was different?  How about Cirque du Soliel?
If the answer is 'no', then no amount of effort of differentiation will help.